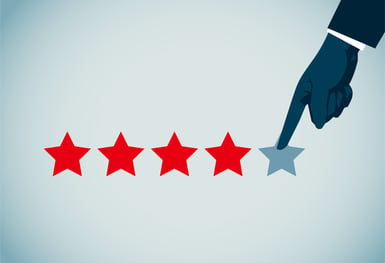 The importance of great customer service skills often gets overlooked, but you should never underestimate the value of them – they are what creates loyal customers. If people have poor experiences in store, they are guaranteed to shop elsewhere.
Research shows just how important good customer service is in retail. 73% of consumers stay loyal to a brand because of a positive encounter with store associates, and 52% of people make an additional purchase after a positive customer service experience.
Providing customers with good service boosts profits. Research shows that consumers who have the best experiences spend 140% more than those who have the worst experiences.
Conversely, poor customer service can have a negative effect on revenue, with some research suggesting businesses lose a total of £12 billion every year as a result. One study found that 78% of consumers did not make an intended purchase because of bad customer service. Another shows that 89% of shoppers switched to a competitor following a negative service experience.
Below are some ways you can improve your store associates' customer service skills to provide a positive consumer experience and increase profits.
Personalise the experience
Your products are what initially attract customers; however, in order to keep them, you must offer a personalised retail experience.
Each customer is different and expects to be dealt with in a personalised way. One study found that 66% of consumers would switch brands if they were treated "like a number, not an individual." Therefore, it's important that your staff speak to customers on a personal level, addressing their individual needs.
Simple things, such as using a customer's name, go a long way in creating a positive in store experience.
Invest in training
The key to great customer service is training.
In today's digital world, customers research products before entering your store. If they then engage with a sales associate, they expect to find an expert who is more knowledgeable about the products than they are. As a result, it's essential that you invest in training your staff.
You should implement microlearning to deliver product knowledge training quickly and efficiently, ensuring employees spend as short a time away from the shop floor as possible. Microlearning involves breaking information down into bite-sized pieces and each session takes just 2–3 minutes to complete.
After implementing Wranx, The North Face® saw a 73% increase in knowledge retention amongst employees, and also noted a 50% increase in items per customer basket.
Feedback from associates stated that they found it easier to retain product knowledge due to Wranx's unique use of Spaced Repetition, which came in useful, particularly when communicating with customers. This in turn had a positive impact on customer experience in store as they associated a higher level of product knowledge with helping customers make purchase decisions.
Communicate with customers
Whether you're letting them know about upcoming deals, or informing them of new products, regular communication with customers can greatly improve their experience and make them feel valued.
You should aim to prioritise customer queries and respond to the most urgent ones within two hours. Remember, not all questions need to be answered immediately. Customers are more willing to wait for a response if they know you are eventually going to fix the issue.
Reward schemes
One practical way of providing good customer service and gaining loyal customers is to introduce reward programmes, where customer loyalty is recognised through items such as vouchers or points cards. Knowing that they will be rewarded for their custom will make consumers more likely to return to your store.
You should also consider rewarding staff for providing exceptional customer service. Showing you appreciate their hard work encourages employees to go above and beyond.
Personalisation, well-trained staff and effective communication are just a few things your company can do to improve customer service in store.
Your employees' ability to provide excellent customer service will not only grow your consumer base, but convince shoppers to return and become loyal to your store. Good customer service will allow you to stand out from the competition and build a positive reputation.
Why Wranx?
Wranx is an employee development platform that helps staff gain knowledge and build exceptional customer service skills.
We use microlearning to train employees, meaning learning can be done on any device, at any time. Our platform uses Spaced Repetition in the form of daily drills – a series of around 10 questions a day. These form part of a month-long module, created by a team of content writers, giving you a bespoke training programme.
Click here to find out more.