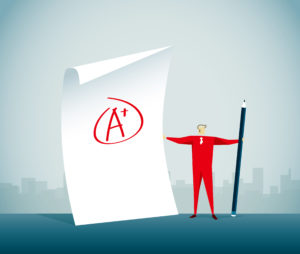 Opinion is divided and thoughts polarised by the current shift in UK education from modular testing to a more linear, end of course, single event testing method. The GCSE and A level education structure is undergoing one of the biggest and most important changes in decades. Some students, it seems, will benefit from these developments. Others, apparently won't. The one thing that is certain, is that for education establishments, teachers and pupils alike, the move is a challenge of some magnitude. But are modular and linear mutually exclusive? Could one be utilised at a parallel to enrich and enhance the success of the other?
This move, spearheaded by Michael Gove, the former Education Secretary, is not exactly a new development, having been implemented in 2012, but more of a return to testing as it was in the days of O levels. The general idea seems to be to reduce the 'over-assessment' of young people, and a move away from only learning in bite-size chunks is thought to help teachers deliver courses in a more holistic way. In terms of testing and assessment, this is a full circle return to days of yore. Gove believed that this more rigorous method of testing would lead to improved results at GCSE and A Level. Many heads and teachers still aren't so sure. Further, in fact, for many, this change asks more questions than it is intended to answer.
Would this move simply encourage a 'teach to exam' culture, where students learn just enough to get them through the exam? Is the linear method appropriate for the times we live in? What about the difference between girls and boys, in their learning and pass rates? Does linear testing take these crucial factors into account? And can teachers really expect students to retain knowledge learnt up to two years previous? What tools are available to help support students through this change to linear testing?
Well, the answer to all of these heady questions appears to be yes. And no. Many believe that linear and modular work best when they work together. And for that to happen, we need to look at technological solutions that can help reshape and reimagine how we react to these new challenges, this new way forward.
Modular testing allowed students to have their work assessed at the end of each individual learning unit, backed and supported by the ability to resit until they reach their target grade. There is a perception amongst some teachers that the modular method was of benefit to girls especially, as they tend to be better focussed and diligent in their work. However, insufficient research has been carried out to fully investigate this theory, and the real impact on girls against that on boys. Girls studying English in a modular system, for instance, are likely to outperform boys, while in maths, boys are able to come on top regardless of the testing method. So we know that one size doesn't necessarily fit all, and there is clear value in enabling modular and linear methods to co-exist.
E-learning offers solutions to many of the questions teachers face as they grow accustomed to these changes. Digital learning methods such as Wranx can supplement and support the linear method, ensuring that all strands of the course are kept contemporary and fresh. By personalising learning, using access to real-time data, teachers are able to see how each individual student is progressing, to target key areas on an individual basis, and provide appropriate feedback when required. Students are encouraged to use the app daily, for a few short minutes at a time, just as they would check their email or social media. We know that 85% of corporate Wranx users access the app on a daily basis. Given this demographic, and the times in which they are growing and maturing, technology leads them, and determines the path of their lives, how they interact, communicate, and of course, how they learn.
In linear testing, students are required to be assessed on information they will have learnt up to two years prior to the exam, and e-learning through an app such as Wranx is proven to boost learning and improve retention. Based around the groundbreaking work by Hermann Ebbinghaus in the field of human memory, Wranx uses Spaced Repetition as its base. While we are talking here in terms of linear testing, combining the course material with the parallel use of modular learning works well as an effective method in supporting students towards the goal of the end of course exam. The modular, bite size method can be used to reinforce the prior learning at the same time as enhancing more contemporary strands of the course. Recent research in Neuro-imaging confirms much of Ebbinghaus' work and confirms that synapses, the foundations of our memory and recall are strengthened by regular use.
The modular approach is known to provide support and the ability to effectively track the progress of students. And, as we know people learn at differing pace, and in different ways, teachers will increasingly rely on new ways, new technologies, to help provide that support, to enhance engagement, improve retention and results.
In a world of linear, end of course assessments, however, there is only one chance to pass or fail.