The benefits of translating e-learning courses

Thanks to the truly global nature of the Internet and the rapid advancement of technology, it is possible for any business regardless of its size or sector to trade with customers on the other side of the world. But while this opens up a wealth of new and lucrative opportunities, it also throws up a fair few challenges.
First of all, you need to have an in-depth understanding of your target market and their preferences. Purchasers in another country will place different priorities on different products and may not be willing to pay the same as consumers back home.
You have also got to consider other factors such as cultural conventions when it comes to selling, what payment methods to accept, how you will delivery your products or services, the refunds and returns process, and whether you need to pay local taxes or export duties.
But getting all of these components correct could be pointless if you run into language difficulties. Both clients and customers need to be given the greatest respect, which won't happen if you insult them or embarrasses yourself through a language misunderstanding.
This is just one reason why translating your e-learning courses makes a lot of sense. But what other benefits can this provide?

Better lines of communication
It sort of goes without saying that enlisting the services of a translation company for your e-learning courses will lead to better lines of communication. By knowing for certain that teaching materials make sense and are grammatically correct, you can be sure employees won't struggle to learn, retain and apply new skills or knowledge.
You could attempt to translate e-learning courses yourself by using an online facility, but this will not have the desired effect. Although useful for a few words or phrases, online translators don't possess the ability to understand or interpret entire sentences.
What's more, the often complex and complicated nature of training, which will sometimes contain industry jargon or company-specific terms, means that incomprehensible training materials could do more harm than good. This is especially true if your members of staff need to know about critical health and safety regulations.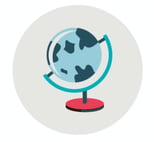 More customers and conversions
Even if your company's offering has already witnessed great success at home, there is a chance that this could be enjoyed and even improved upon abroad. But you will never know unless you invest in translating.
More often than not, opening up your products and services to a foreign market will lead to an increase in clients and customers all around the world. As a result, your organisation will start to overtake industry competitors that are only proficient in one language.
This will then allow the business to go from strength-to-strength and with any luck, record impressive growth figures for many years to come. However you have to speculate to accumulate and believe there are scores of potential patrons out there that will buy your product or service if it is available in another language.

Achieve greater customer and employee satisfaction
Seeing as 840 million people around the world speak English, countless companies believe that they can get away with offering only one language. In many respects this is true, but that doesn't mean to say the pros outweigh the cons.
For example, you may be able to achieve greater customer and employee satisfaction by translating your e-learning courses. Clients with a different native tongue to yours will appreciate the effort you have gone to and hold the business in high esteem.
At the same time, members of staff will feel like they are part of an organisation that respects and values their contribution. This also means they will be more incentivised and stimulated to learn, as you have gone to the trouble of creating teaching materials specifically for them.

More confidence in your abilities
As you are no doubt already aware, confidence is an incredibly important thing in business. If you don't have self-belief or conviction with your decisions, then you will stand still in the marketplace and fail to progress towards prosperity.
But safe in the knowledge that you and your employees can be understood in a number of different languages, the entire organisation will ooze confidence. That being the case, you will surely secure more customers and increase those bottom-line conversions, irrespective of where in the world they are coming from.
At the end of the day, there is a big difference between "We have the finest products available to buy" and "We have to buy the best products," which is what happens when you put this phrase into Google and then translate it back again.
What to look for in a translation company
Even though you can reap a variety of rewards by translating your e-learning courses, these merits might not come to fruition if the company you choose is equally incompetent in another language. So, with this in mind, here is what to look for in a translation company.
Reputation - See whether they are a member of any trade or industry associations and search for reviews online from previous clients. If you can't find any, ask the company to provide some testimonials from satisfied customers.
Experience - Although you shouldn't instantly discount a translation company that has only been in operation for a few years, if an organisation has stood the test of time it can probably be trusted with your e-learning course.
Quality - Ask what initiatives or tools they have in place to ensure quality is always high. Most translators will be more than happy to provide insight into how the business turns around work.
Communication – If they are quick to respond and affable in their communications it could be the start of a favourable and mutually beneficial working relationship between the both of you.
These are only a handful of benefits to translating your e-learning courses and even more will become apparent once the wheels are in motion. Some more challenges and considerations may also come to the surface, but very few aspects of business are without their obstructions.